In my spare time, when I am not busy fighting crime, or finding a cure for herpes, I like to chat to my friend Beau Lotterman. Beau, doesn't talk back, because for some reason Beau hates me, but that's okay with me. He being a great Hollywood actor and all.
Beau introduced me to Noni, who is also a great actress, I forgot her name but she likes shoplifting. I'm not really interested in her though, people tell me she never did porn anyway. Noni also doesn't like me because I called her a bitch. Which is not a very polite thing to do.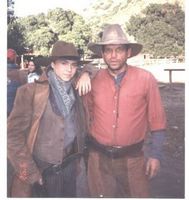 Beau with that bitch that showed her pussy in that other film with that dude who also played in "Wall Street".
Beau's tragedy is, that although he is kind of growing old now, he never had the chance to play a real role. (He was in the mask and in this film with Harrisson Ford with that gorgeous babe and that really cool bomb.) I mean a lead. Or a role that actually requires one to open ones mouth.
All that is going to change now. I have created an online petition to the Hollywood people to give Beau a real role. Please sign it.
--->the petition<---
Have a nice day.